RETOUR
FAB FIVE FREDDY (1959) Américain
Fred Brathwaite, plus connu sous le nom de Fab Five Freddy, est un artiste de graffiti des années 1970. Freddy apparait et signe en 1981 le clip de Rapture de Blondie. Rapture est le premier cut de MTV. En 1988, il devient l'animateur de l'émission musicale Yo! MTV Raps.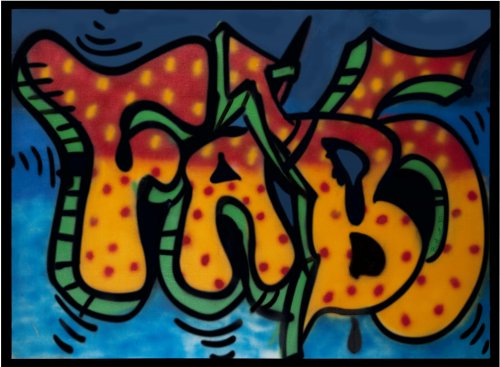 Lien Photo HD
To The Ver Essence Of Charming Intelligence And Beauty, 1981
FAB FIVE FREDDY (1959) Américain
Aérosol sur toile
137 x 182 cm
Signée dans la composition
L'une des seules toiles de cet artiste, très connu dans le Hip Hop.
Provenance :
- Collection Vintage, Fonds Gallizia